Mo's Favorites Vol.2 E-book
Regular price
$19.99 USD
Sale price
$9.99 USD
Unit price
per
Sale
Sold out
Mo's Favorites Vol.2 is a collection of 15 Recipes which includes, some of my Favorite Mains, Fried Chicken & My Signature Sauces I can't get enough of. With Detailed Instructions & Ingredients &  You Can't Forget The Secrets.
If you have any Questions or Concerns please feel Free to Dm or Email me at anytime and I Will get back to you as Soon as possible. 
Also This Ebook has a link to videos in each picture for each individual recipe.
 Recipes:
1. Butter Chicken
2. Creamy Chicken Rasta Pasta
3. Beef & Broccoli 
4. Italian Ranch Pot Roast
5. Brown Butter Mashed Potatoes
6. Next Level Baked Ziti
7. Creamy Jerk Wings
8. Crispy Hot Honey Wings
9. Crispy Garlic Parmesan Wings
10. Saucy Vodka Drumsticks
11. Garlic Parmesan Nuggets
12. Special Sauce Aka Mac Sauce Goes On Fries, Burgers, Wings & More
 13. Marry Me Chicken
14. Saucy Jerk Burger
15. Halal Style Chicken Over Rice With The White Sauce
Share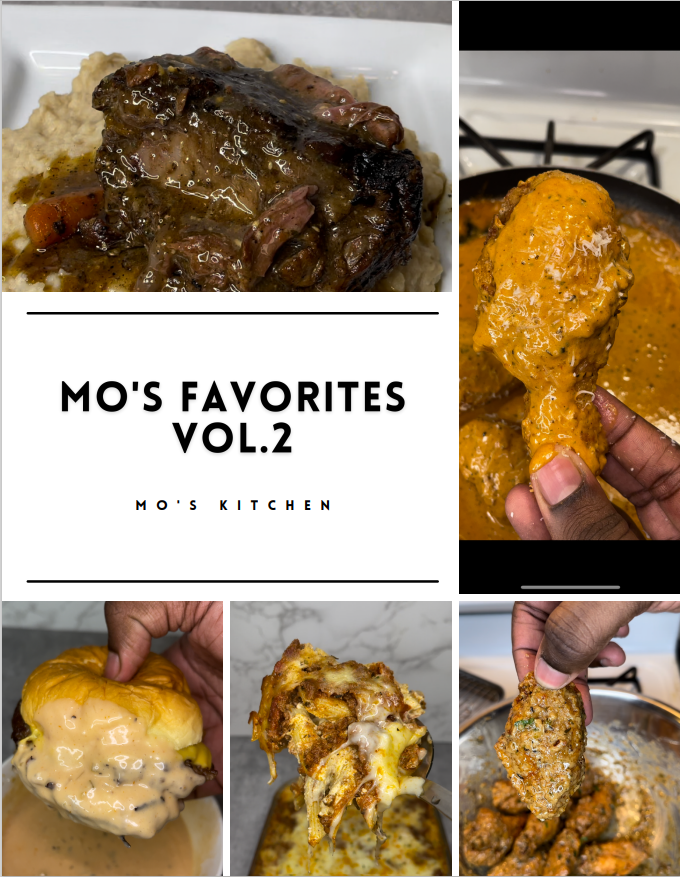 SO GOOD
I bought 'Mo's Favorites Vol.2' mainly for the butter chicken recipe. I saw it on instagram and it looked so good I HAD to try it. IT WAS DELICIOUS!! And SO easy to make.
It's so nice to have a flavorful meal without the eating out prices.
Plus I took the leftovers to work and even after reheating it the flavor was amazing.
I can't wait to try the rest of the recipes.
Thank you Leah I'm soo glad you tried and enjoyed it <3!