Mo's Kitchen Vol.1 E-book
Regular price
$19.99 USD
Sale price
$9.99 USD
Unit price
per
Sale
Sold out
Some of my Favorite and Viral Dishes, all in one book to Satisfy your Tastebuds.
Dishes:
1.  Honey Garlic Lamb Chops
2. Chopped Cheese Eggrolls 
3. Beef Lo Mein
4. Chopped Cheese
5. Fried Alfredo Lamb Chops
6. Chicken & Cheese Sandwich
7. Fried Chicken Parmesan With Fettuccine Alfredo
8. Orange Chicken
9. Chicken Alfredo Grilled Cheese
10. Fried Garlic Parm Chicken Sandwich
11. Alfredo Fried Chicken Sandwich
12. Stuffed Salmon
13. Honey Jerk Salmon Rasta Pasta
If you have any Question or Concerns feel Free to Dm or Email me at anytime and I Will get back to you as Soon as possible.
Share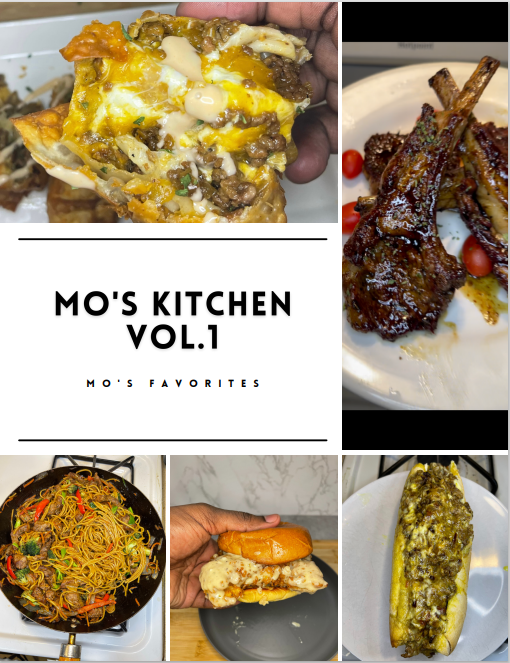 Lo Mein and Orange Chicken
Both recipes were to the "T"! I felt like a chef. Made it 3 days in a row and recorded one of them. Lol it felt so good to find something different and fun to make at home. The recipe is so exact that you can make it with confidence! This cookbook is so worth it! I'd give it more than 5 stars if I could! This video was my 3rd time making it.
Thank you for review Alicia, I love how you added the Shrimp & the Orange chicken with the Lo Mein super dope <3!. Glad you enjoyed it & I didn't let you down!
Great recipes
Great and flavorful recipes. Written like he talks so they're easy to follow.
Thank you for the review Alisha,
Glad it was an easy read & that you enjoyed it <3!
Greatness on paper 🤩
Love these recipes, and they're so easy to follow makes a great date night meal and amazing meal prep for the rest of your week, thank you Mo
Thank you so much, glad I didn't let you down <3!
My goal was to make it easy/simple as possible glad I delivered & no doubt <3!
Easy to follow
I love that it is digital, very easy to use in a pinch the recipes are delicious as well. 10/10 will purchase another 😍
Thank you for the review Camryn <3
I appreciate the feedback & support, glad you enjoyed it, can't wait to hear what you think of the next one.